happiness, joy, and whimsy
Hi,
I'm Wendy!
Artisan ~ Designer ~ Educator ~ Entreprenista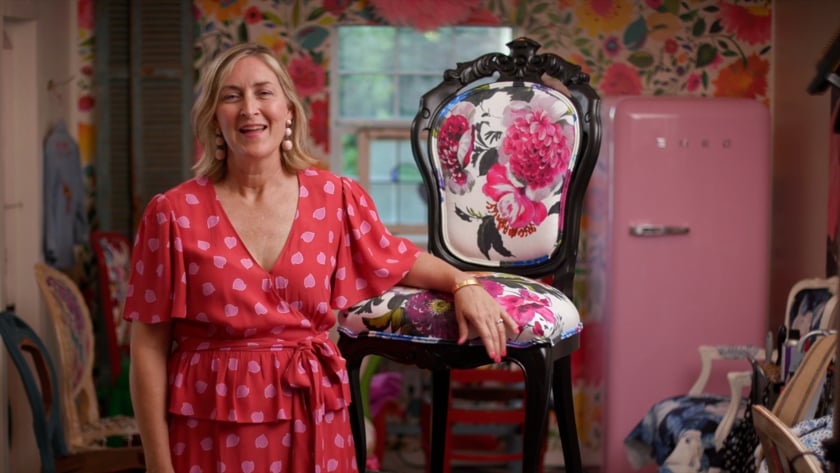 Welcome to my little corner of the internet!
I dare you to try not to smile…
Around these parts you'll find color, pattern play, design projects, reupholstered chairs, online courses to help you learn new skills and flex your creativity, plenty of inspiration and joy!
My chair reupholstery hobby-turned-business has evolved into
a movement and a community of women choosing to live more creatively.
How to think, play, and work more creatively
Inside the gorgeous pages of Life Whimsy, you'll learn how to :
Develop your creative thinking, twisting your mindset to options & solutions rather than failure & face-plants.
Rejuvenate your mind, body, and soul through the magic of play. (Yes, adults can play! I promise!)
Infuse creativity into your profession or business, even if you work in a deeply "uncreative" field.
The content and programming we offer is always a direct answer to the needs of our audience -
you ask for new ways to develop your skills and cultivate your creativity, and we deliver!
Frances Valentine x Chair Whimsy
What do you get when you cross American Lifestyle Brand, Frances Valentine, known for their evolution of joyfully dressing and crafting comfortable and chic clothing - with Austin-based Artisan, Designer, and Creative Director Wendy Conklin of the aesthetically playful, upholstery + creative education studio, Chair Whimsy?
A match made in tablescape heaven!
It started with an email... "Would you like exclusive access to our spring fabrics to do a line of your chairs? I think it would be perfect!"
I was thrilled - Frances Valentine, one of my favorite brands, wanted to work with me! So, after hammering out the details, I started what would become one of my most unique chair collections to date!
Add a custom-painted vintage table, a beautiful southern mansion, and items from FV's spring homeware line for a stunning finish!
Experience the collaboration in three ways:
Get the Guide
GET THE EXCLUSIVE BEHIND-THE-SCENE PHOTOSHOOT GUIDE FROM THE COLLABORATION!
Shop Chairs
SHOP THE CHAIR COLLECTION of exclusive designs found only here at Chair Whimsy for a limited time!
New Course!
CHECK OUT MY NEW ONLINE COURSE - MIX IT LIKE A STYLE MAVEN - for color enthusiasts who want to enhance their home and personal style with more color and pattern for a sophisticated and polished finish!
At Chair Whimsy,
we believe:
1.
We're all makers at heart. We are created to make and to do handwork. Everybody can cultivate and express their creativity, develop new skills, and feel the fulfillment and pride in a completed project.
2.
"Play" is a requirement for a thriving adult life. Therefore, we prioritize enjoyment and expression. The tactile experience of handwork is essential to play. You officially have permission to play; sometimes, our students need our help to re-learn how to play.
3.
Creating is a transformative experience. The challenges, risks, and rewards of developing new skills can be therapeutic and help us reduce and manage stress. Completed projects give us a sense of pride and accomplishment, expanding our capacity for joy.
Ready to create the life you desire and live more creatively?
25 Favorite Fabrics for Colorful Chair Projects